Local 8 History
TEAMSTERS FIGHTING FOR THE FUTURE
1970-1971-1972 FIRST NEGOTIATING COMMITTEE
President/Business Agent - William E. Mowery
Secretary Treasurer/Business Agent - Leroy M. Burd
Vice President - George R. Leslie
Recording Secretary - Josephine A. Rimmey
Trustee - Rodney E. Walker
Trustee - C. Rodney Knepp
Trustee - Arlene F. DeLallo
---
---
Jonas Ripka raising the flag in front of Old Main
1973-1974-1975
President/Business Agent - George R. Leslie
Secretary Treasurer/Business Agent - Leroy M. Burd
Vice President - Lewis S. Jodon
Recording Secretary - Josephine A. Rimmey
Trustee - Elwood McClellan
Trustee - Kenneth Knepp
Trustee - Ralph Stover
---
---
1978 STRIKE ACTION
AGAINST PENN STATE UNIVERSITY
1976-1977-1978
President/Business Agent - Jane Anne Pikovsky
Secretary Treasurer/Business Agent - C. Rodney Knepp
Vice President - Paul Yatchik
Recording Secretary - Wade Barber
Trustee - Melvin Frank
Trustee - Josephine E. Woodring
Trustee - Ralph Stover
---
1979-1980-1981 1982-1983-1984

President/Business Agent - Earl W. Lutz President/Business Agent - Earl W. Lutz
Secretary Treasurer/Business Agent - Jeff McGhee Secretary Treasurer/Business Agent - Jeff McGhee
Vice President - Paul Yatchik Vice President - Paul Yatchik
Recording Secretary - Wade Barber Recording Secretary - Wade Barber
Trustee - Philip Meyer Trustee - Robert K. Fulton
Trustee - William R. Sprout Trustee - William R. Sprout
Trustee - Bill Tibbens Trustee - Bill Tibbens
---
JAMES R. HOFFA & FAMILY AT TEAMSTERS RALLY
1985-1986-1987

President/Business Agent - Earl W. Lutz
Secretary Treasurer/Business Agent- Jeff McGhee
Vice President - Paul Yatchik
Recording Secretary - Harry Myers
Trustee - Michael R. Kelleher
Trustee -Gregory A. Sampsell
Trustee - Bill Tibbens
---
---
1988-1989-1990

President/Business Agent - Gregory A. Sampsell
Secretary Treasurer/Business Agent - Harry R. Meyers
Vice President - Jeffrey E. Poorman
Recording Secretary - Michael R. Kelleher
Trustee - Michael Boonie
Trustee - Gary F. Sharpless
Trustee - Bill Tibbens
---
1991-1992-1993

President/Business Agent - Gregory A. Sampsell
Secretary Treasurer/Business Agent - Gary F. Sharpless
Vice President - Jeffrey E. Poorman
Recording Secretary - Michael E. Boonie
Trustee - Robert R. Bair
Trustee - Terry G. Dick
Trustee - Mary L. William
---
---
1994-1995-1996 1997-1998-1999
President/Business Agent - Earl W. Lutz President/Business Agent - Earl W. Lutz
Secretary Treasurer/Business Agent - Jeff McGhee Secretary Treasurer/Business Agent - Jeff McGhee
Vice President/Business Agent - Robert R. Bair Vice President/Business Agent - Paul J. Helton
Recording Secretary - Richard F. Way Recording Secretary - Richard F. Way
Trustee - Steve Cleaver Trustee - Steve Cleaver
Trustee - Luther W. Musser Trustee - Luther W. Musser
Trustee - Mary L. Williams Trustee - Mary L. Williams
---
---
2000-2001-2002 2003-2004-2005

President/Business Agent - Kim L. Yearick President/Business Agent- Kim L. Yearick
Sec/Treasurer/Bus Agent - Jeffrey E. 'Jigs' Poorman Sec/Treasurer/Bus Agent – Jeffrey E. "Jigs" Poorman
Vice President - Richard F. Way Vice President – Ernie Rupert
Recording Secretary - Robert D. Hutchison Recording Secretary – Terry Chandler
Trustee - Steve Cleaver Trustee – Ed Behrer
Trustee - Luther W. Musser Trustee – Linda Price
Trustee - Mary L. Williams Trustee - Donald 'Butch' Eckley
---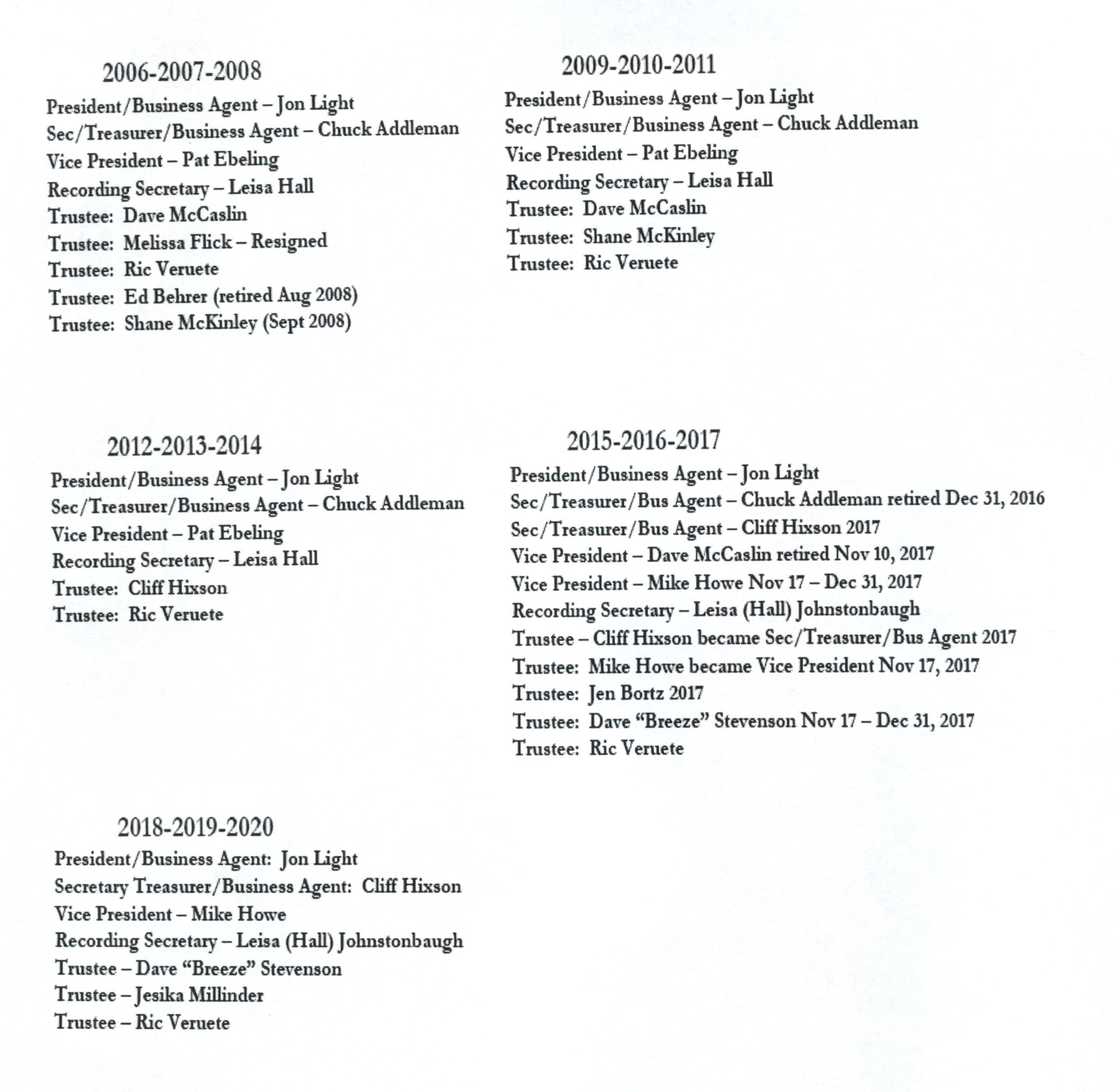 ---
Interesting Facts
Teamsters Local 8 was originally chartered on 1 December 1968 as the Scholastic Technical Services Employees and Professional and Office Employees. The original signers of the charter were Fred L. Sweeley, Arlene F. Delallo, William E. Mowery, Kenneth H. Dixon, Ned Hockenbrock, Gerald E. Bressler, Leonard D. Hardy Sr. and Lewis S. Jodon.
The only work stoppage at The Pennsylvania State University occurred in 1978.
Effective July 1, 1969 the "Job Grade Rate" for a grade 10 was $2.15 per hour. For a grade 1, the rate was $3.79. A grade 6 made $2.75 per hour.
Page Last Updated: May 02, 2018 (12:17:30)